It's no secret that wildfires are a near-constant concern for much of California.
With that in mind, KPCC's data journalism and product teams built the initial Fire Tracker in 2012. It was the first tool of its kind – it compiled information from different fire agencies around the state and presented the data in a user-friendly way. And, in true public media fashion, it included opportunities for other California stations to contribute.
But five years later, it was time for an update. My developer colleagues updated or rewrote the majority of Fire Tracker's workings. I led the charge on creating a better at-a-glance experience for users, who are often turning to Fire Tracker to see if they (or folks they care about) are out of harm's way. The final result was part of a project that won a 2018 Edward R. Murrow Award for Excellence in Innovation.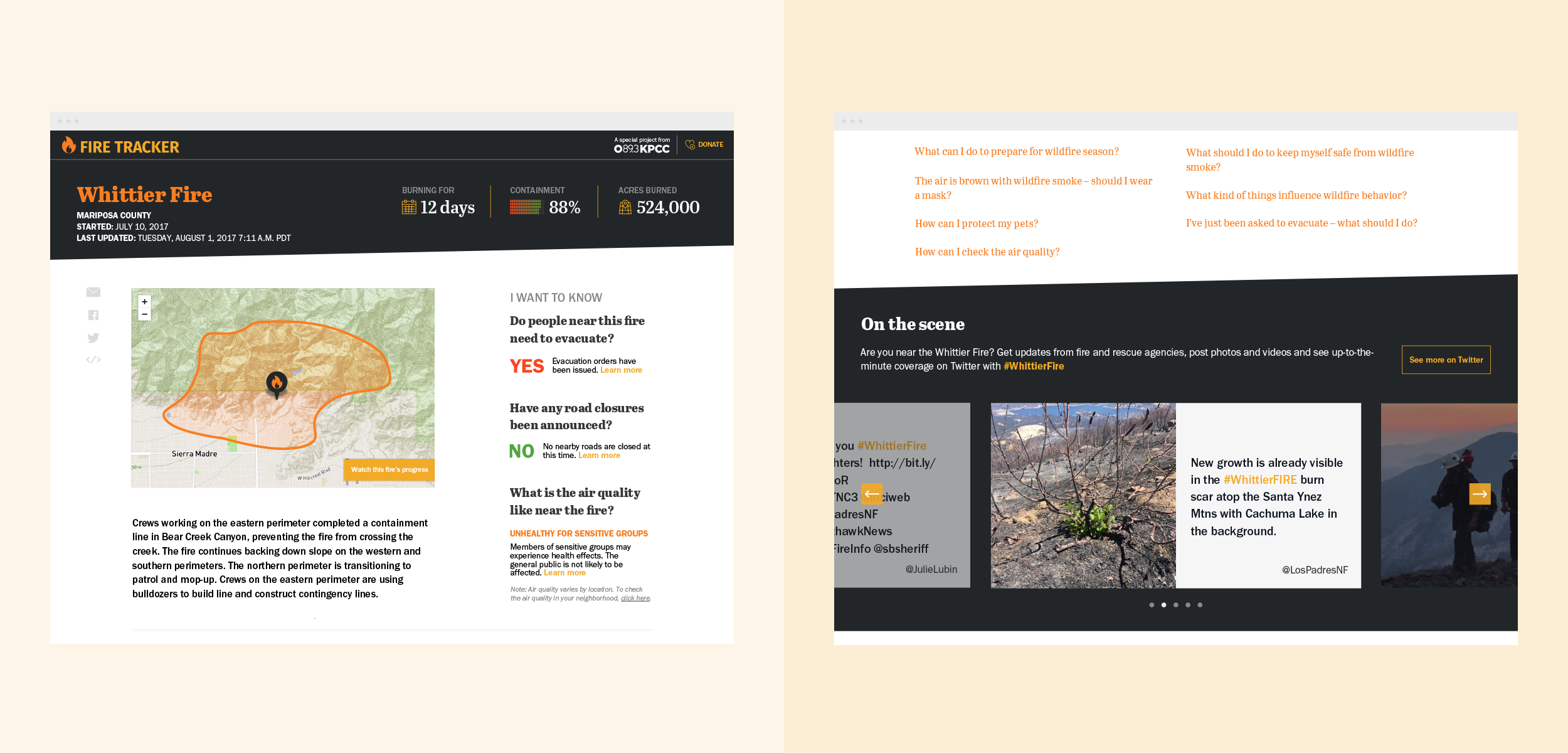 Data showed that most Fire Tracker traffic comes directly to an individual fire page from Google.
That knowledge, plus learning what information users valued most during user testing (e.g. evacuation zones, air quality, percent containment), helped us craft a fire page that displays information in bite-size capsules. We made it a goal to use as little text as possible, using simple words in large fonts and clear colors (green = good, red = bad) to make everything as digestible as possible.
We also took a tip from a user to pull photos in from Twitter, so visitors could get an immediate sense of what it's like at the scene.
More than anything, most people who see Fire Tracker data are seeing it through our embeds, which are a favorite with other news agencies during fire season. We reworked our approach to these as well, incorporating fire perimeter data and a summary to give a clearer story. (All of the data on the embeds updates in real time.)